BOOK DIRECTLY WITH US YOUR STAY AND RECEIVE:
5% discount

Stay Longer, Pay Less (from 8% additional discount)

Free entry to Sport & Play

GAME ON for all ages

Extensive breakfast

Cancellation free of charge untill 24 hours before arrival
Come join the fun
At HUP, we love to mix sports with fun. Loads of it. For everyone. For families with overexcited kids, bursting with energy. For those who can't sit still, but still want to relax. Because relaxing can be hard work too. Feel like working up a sweat? Go hard at the squash court! Or in the sauna. It's all good to us, it's all energizing for you.
Go crazy. Get wild
HUP Hotel is the spot to go crazy and get wild. Imagine two soccer fields stitched together. Got the picture in your head? That's how much space HUP has reserved for fun and games. For relaxing and exercising.
Bounce on your bed, run down the corridor, and slide down to the lobby. Challenge each other, in the bedroom or at the bowling alley. Finish in style with a great meal at HUP EET or with some drinks at the Sports Bar. Let's see who makes it to the breakfast buffet first.
HUP floor plan
We have everything to keep you entertained. HUP covers no less than 10,000 m2 of sports, fun and wellness facilities. To give you an idea this is the size of two football fields. Everything is possible here. We offer you a lot of space. It is up to you what you do with it. Take a look at our floorplan and start filling in your TO DO list.
New at HUP: Monkey Town (indoor playground) & Street Jump (indoor trampolines).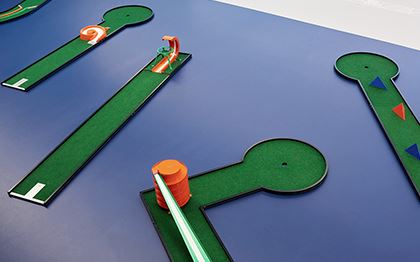 share your HUP moments
#huphotel