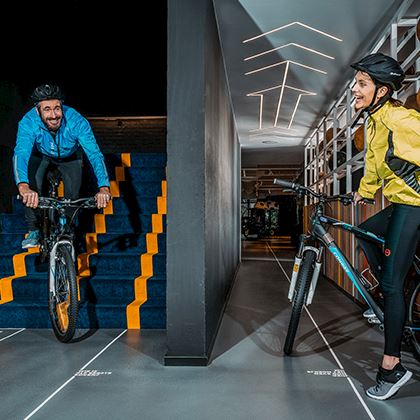 Bicycle
Riding our bikes. We love it. Feet on pedals, hands on the handlebar … let's go! Go where your pedalling legs take you. Take it to the road. And, as you are in the Netherlands, there is always a bicycle path to cycle safely. Racing bicycle, granny's bike, mountain bike, e-bike, mother's bicycle, city-bike. With or without training wheels. Or child-seat. It's all good to us. As long as you get on your bike and get your move on!
Take your bike to the country side of North Brabant and enjoy the rich scenery. Don't forget to put air in your tires at our filling station out front, designated for bikes. Better safe than sorry!
Beautiful Brabant by bike
Life is grand in the province of North Brabant. And it gets even grander on a bike. Take a cycling route that leads you through the diverse scenery of the various moors. Or go and visit villages with rich histories, such as Lierop en Heeze, the pearl of Brabant. Or follow in the footsteps of Vincent van Gogh and take your bike to places illustrative for the life of the great painter.
Wherever you go, make sure to put in some stops along the way. To take a closer look. And to enjoy some coffee and apple pie. Or a savoury worstenbroodje, the North Brabant version of a sausage roll.
Embarking on the Van Gogh-route? Take the Van Gogh-Roosegaarde bicycle path on your way back. At twilight, thousands and thousands of shimmering stones light up the path. A mesmerizing homage to the painting Starry Night. A must see!